September 21, 2006 GET HAPPY
PODCAST FROM 09/21/06 SHOW
Guest: the ever-friendly-lovely-funny Dave Crosland!
Review: "Book 1: Out from Boneville" of the 'BONE' series by Jeff Smith!
Other: Ian reviews webcomics Toothpastefordinner.com and Marriedtothesea.com!/
We freak out after having met MC Chris and Tony Moore in the same room on the same day at the same time!/
Etc. It was a great show.
Advert' for Dave's upcoming Scarface adaptaysh! Ohhh geez.
Why do these people look so content? Because exactly 50% of them (Dave, second from left, and Jim Mahfood, third from left) have been interviewed by "The Panel!" (Cute girls: we'll talk.)
Whoops... wrong image.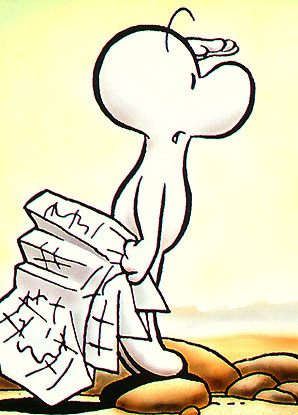 Ahh. Now that's better.
Anyway, yesterday was a grand day for us three. (See above.)
Check out The Rapper's Delight Club if you love cute kids and you love hip hop. You done heard me!
myspace.com/rappersdelightclub
Delightfully yours,
Annie&theboys
P.S. We love ya, Bucky!